Lets start at the beginning.....
For the last 4 years I have taught dance classes with the
Community Recreation Center
(click
here
for classes offered) in town and I have loved every minute of it. I have taught ages 3- Adult and in the styles of Ballet, Tap, Jazz, and Hip Hop. Until recently these have been the only style of dance that I have taught. Starting last year I became a gymnastics teacher and team taught classes ages 3-8. It was so much fun! Now keep in mind I dont know anything about gymnastics except what I have taught myself. And lets just say I can do a wicked somersault (forward roll) and some pretty dang good cartwheels. But my knowledge is very limited. But nevermind that I was asked to team teach in a gymnastics class and to my surprise the class was actually very enjoyable and I really liked teaching those crazy kids! I even learned how to do a cartwheel correctly! After teaching gym classes last year, this year I was roped into teaching a Power Cheer and Stunting Class. Now lets just say that my cheer skills have been acquired from many years of
dance
and are therefore subject to criticism. I know how to do the following:
Half T R Bow and Arrow
Full T L Bow and Arrow
Daggers Hands on Hips
Candle Sticks Cleaning Position
Buckets Clasp
High V Low Touch down
Low V Box
R Check mark Left L
L Check mark Right L
W Punch
R Diagonal
R Herky Jump
L Diagonal
L Herky Jump
Goal Post
Hurdler Jump
R K
Pike Jump
L K
Straddle Jump
Now you make say wow that is actually a lot of different arm movements but really.... there is so much more. I have no idea how to do any tumbling nor any stunting. But I played it off cool as a cucumber and demonstrated what I have seen on TV and in observing Cheerleading at the high school and college level! I'm very proud to say that I now know how to do a back hand spring and a standing back tuck!
(Thanks to my dear friend Mrs. Cohlee). I also know how to do these two stunts now!
Stunt 1
Basic Cheer Stunt
Stunt 2
Liberty Cheer Stunt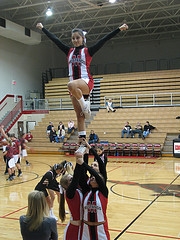 The girls in are class were so wonderful and I loved being able to teach them! They did a fabulous job at their recital last night and didn't even drop a stunt (that is really bad in the cheer world)! Im so glad that I got the opportunity to teach cheer this year! I got to fulfill my wildest dreams an be a Cheerleader even if it was only for a little while!
Check out the video of our cheer dance and
cheer side line
on YouTube. ( still to come)
Pin It